CW3E Releases New Interactive Geospatial Observation and Forecast Maps
Spetember 18, 2017
CW3E has released a new interactive mapping tool that takes advantage of "web mapping services", GIS-based coding/thinking, and interactive technologies in order to provide dynamic weather analysis graphics in support of the CW3E mission. These interactive maps allow the user to display and interact with numerous variables from a synoptic to a watershed scale with the goal of providing insight into potential impacts of landfalling atmospheric rivers over California.
This interactive tool was developed as a means to geospatially visualize meteorological and hydrologic observations on a new platform and from a new perspective. This first set of maps/webpages illustrate the utility of the tool in displaying atmospheric river related forecast products and CW3E will continue to build upon the tool. As we continue to experiment in improving and expanding the tool, we encourage any feedback or suggestions. Please contact the website creator or the CW3E Webmaster with any questions or feedback you may have.
The development of the tool and maps/webpage is supported by the California Department of Water Resources. The page was created and developed by CW3E collaborator Dr. Jason Cordeira and CW3E Director Dr. F. Martin Ralph with input from CW3E researchers Brian Kawzenuk, Chad Hecht, and Dr. Julie Kalansky.
Click here to view the new interactive geospatial observation and forecast maps.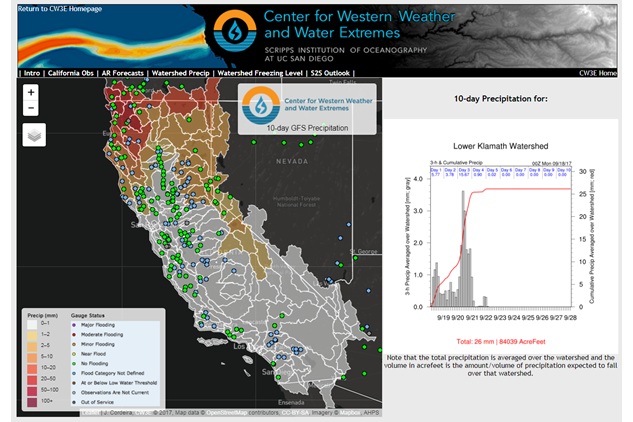 CW3E Publication Notice
CalWater Field Studies Designed to Quantify the Roles of Atmospheric Rivers and Aerosols in Modulating U.S. West Coast Precipitation in a Changing Climate
November 28, 2016
Ralph F.M., K. A. Prather, D. Cayan, J.R. Spackman, P. DeMott, M. Dettinger, C. Fairall, R. Leung, D. Rosenfeld, S. Rutledge, D. Waliser, A. B. White, J. Cordeira, A. Martin, J. Helly, and J. Intrieri, 2016: CalWater Field Studies Designed to Quantify the Roles of Atmospheric Rivers and Aerosols in Modulating U.S. West Coast Precipitation in a Changing Climate. Bull. Amer. Meteor. Soc. 97, yyy-zzz. doi: 10.1175/BAMS-D-14-00043.1.
This paper summarizes the 8-year-long CalWater program of field studies, from planning to field operations and analysis efforts. It also summarizes the major motivations for the program as well as science gaps addressed, and serves as the standard reference for future CalWater analysis papers.
Contact: F. Martin Ralph (mralph@ucsd.edu)
Abstract
Quantifying the roles of atmospheric rivers and aerosols in modulating U.S. West Coast precipitation, water supply, flood risks and drought in a changing climate.
The variability of precipitation and water supply along the U.S. West Coast creates major challenges to the region's economy and environment, as evidenced by the recent California drought. This variability is strongly influenced by atmospheric rivers (AR), which deliver much of the precipitation along the U.S. West Coast and can cause flooding, and by aerosols (from local sources and transported from remote continents and oceans) that modulate clouds and precipitation. A better understanding of these processes is needed to reduce uncertainties in weather predictions and climate projections of droughts and floods, both now and under changing climate conditions.
To address these gaps a group of meteorologists, hydrologists, climate scientists, atmospheric chemists, and oceanographers have created an interdisciplinary research effort, with support from multiple agencies. From 2009-2011 a series of field campaigns (CalWater 1) collected atmospheric chemistry, cloud microphysics and meteorological measurements in California and associated modeling and diagnostic studies were carried out. Based on remaining gaps, a vision was developed to extend these studies offshore over the Eastern North Pacific and to enhance land-based measurements from 2014-2018 (CalWater 2). The data set and selected results from CalWater 1 are summarized here. The goals of CalWater-2, and measurements to date, are then described.
CalWater is producing new findings and exploring new technologies to evaluate and improve global climate models and their regional performance and to develop tools supporting water and hydropower management. These advances also have potential to enhance hazard mitigation by improving near-term weather prediction and subseasonal and seasonal outlooks.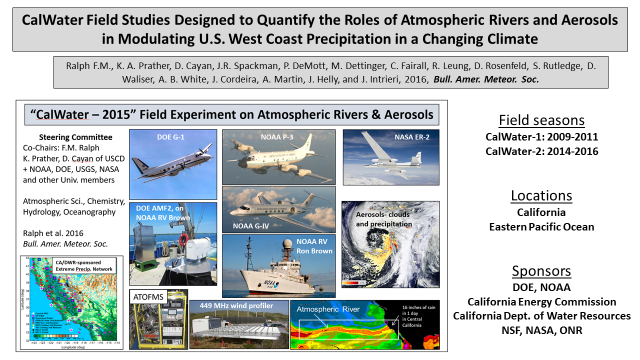 The Washington Post Capital Weather Gang features CW3E and Atmospheric River Field Mission
February 18, 2016
The Washington Post Capital Weather Gang today (18 February 2016) featured the current observing missions happening over the eastern Pacific as coordinated by CW3E director Dr. F. Martin Ralph. Current missions are starting from Hickam Air Force Base in Hawaii and include some 800-mile transects. Critical information about water vapor distribution and winds are gathered during these flights and are used as initial conditions in global forecast models. The article highlights several quotes from CW3E director Ralph including the importance of pin-pointing the landfall of an Atmospheric River. Regarding forecast uncertainty: "Where it hits is off by an average of plus or minus 500 kilometers," Ralph said. "An atmospheric river is 500 kilometers wide, so the error can mean the difference of whether you're hit or not."
Find the full article at The Washington Post Capital Weather Gang page: here.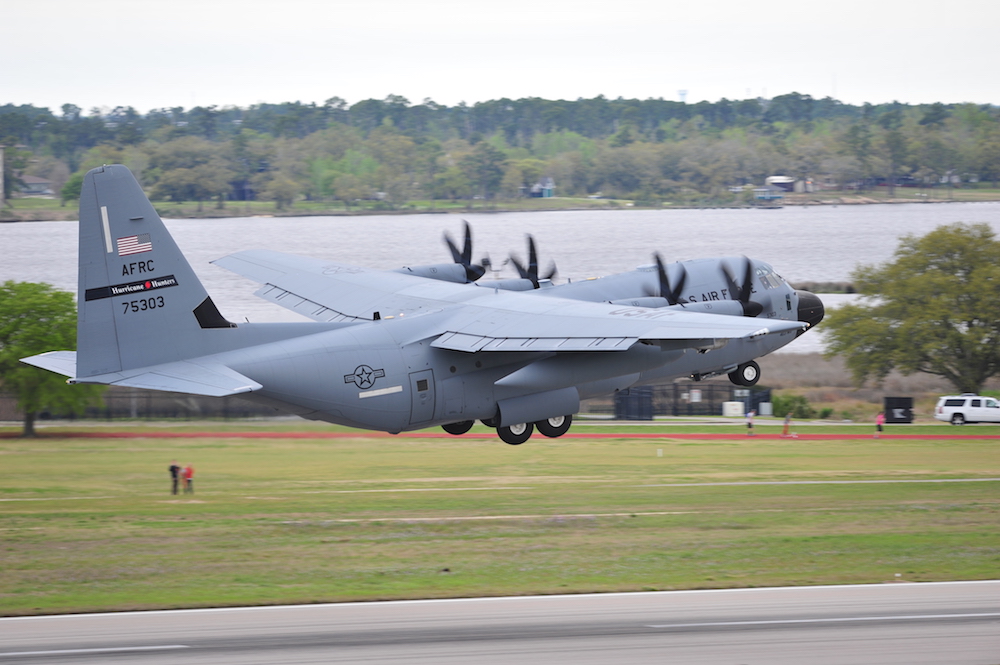 State-of-the-art WC-130J aircraft for weather reconnaissance missions. The aircraft is a C-130J transport configured with palletized weather instrumentation for penetration of tropical disturbances and storms, hurricanes and winter storms to obtain data on movement, size and intensity.The WC-130J carries a minimal crew of five: pilot, co-pilot, navigator, aerial reconnaissance weather officer and weather reconnaissance loadmaster. (U.S. Air Force photo/Tech. Sgt. Ryan Labadens)