CW3E AR Update: 13-15 February Summary
February 16, 2019
Click here for a pdf of this information.
Atmospheric River Impacts California
The major storm that struck California on 13–14 February 2019 was an atmospheric river storm.
At landfall, the new AR Category Scale characterized it as an "AR Cat 4" along the San Diego California Coast using the Ralph et al (2019) AR impacts scale. It reached "extreme" intensity.
The strong AR brought heavy precipitation (>10 inches in 24 hours over some locations) and created numerous impacts.
Several highways and interstates throughout the state were closed due to flooding, snow, and high winds.
Several evacuations were ordered near the Holy Fire Burn area due to flooding.
A shallow landslide in Marin County resulted in the destruction of 3 homes.
SSMI/SSMIS/AMSR2-derived Integrated Water Vapor (IWV)
Valid 0000 UTC 10 February – 1600 UTC 15 February 2019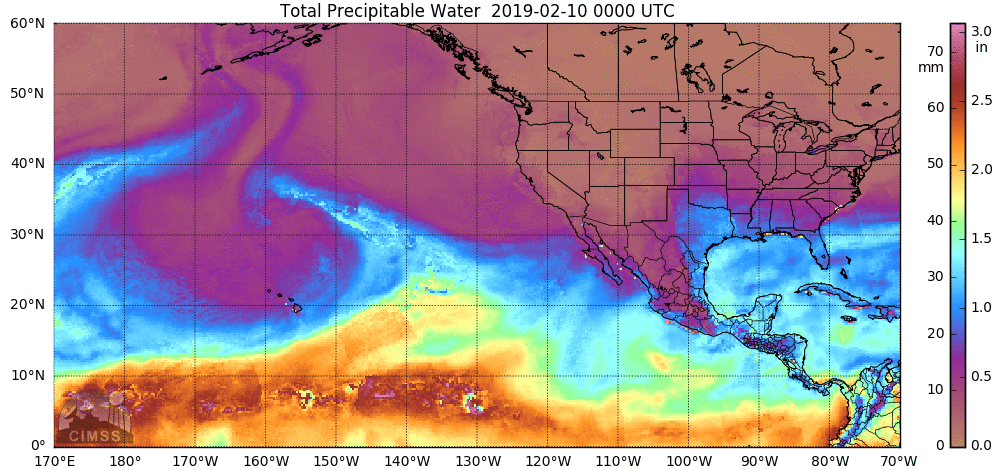 Images from CIMSS/Univ. of Wisconsin
Click IVT or IWV image to see loop of GFS Analysis

Valid 0000 UTC 11 February – 1200 UTC 15 February 2019
Summary provided by C. Hecht, B. Kawzenuk, N. Oakley, J. Kalansky, and F. M. Ralph; 4 PM PT 15 February 2019