CW3E AR Update: 28 September 2021 Outlook
September 28, 2021
Click here for a pdf of this information.
Atmospheric River Brings Rain to the Pacific Northwest
A strong atmospheric river (AR) made landfall over Washington during the early morning of 26 September
Portions of coastal Washington and Oregon experienced AR 3/AR 4 conditions (based on the Ralph et al. 2019 AR Scale)
More than 3 inches of precipitation fell in parts of the Olympic Peninsula and North Cascades
MIMIC-TPW2 Total Precipitable Water
Valid 0000 UTC 25 September – 0000 UTC 28 September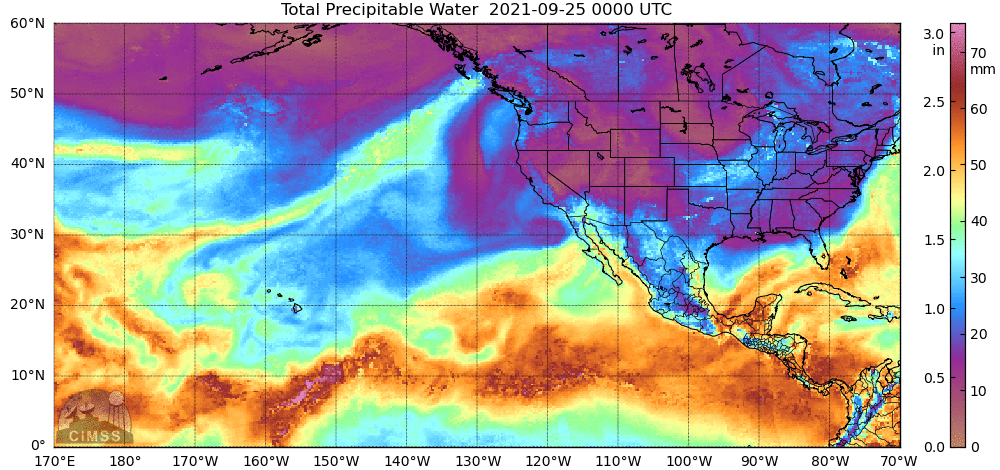 Images from CIMSS/University of Wisconsin
September to End on a Wet Note in the Pacific Northwest
Yet another AR is forecast to make landfall over the Pacific Northwest tomorrow
AR 2/AR 3 conditions (based on the Ralph et al. 2019 AR Scale) are possible over coastal Washington and northern coastal Oregon
About 1–3 inches of precipitation are forecasted across much of western Washington over the next 72 hours, with higher amounts possible in the Olympic Mountains and North Cascades
Given the more northerly track of the AR and associated surface cyclone, little or no precipitation is expected in most of Oregon and Northern California
Click images to see loops of GFS IVT & IWV forecasts

Valid 0600 UTC 28 September – 0000 UTC 1 October 2021
Summary provided by C. Castellano, C. Hecht, J. Kalansky, B. Kawzenuk, and F. M. Ralph; 28 September 2021
To sign up for email alerts when CW3E post new AR updates click here.
*Outlook products are considered experimental