CW3E Event Summary: 29 December 2022 – 1 January 2023
January 4, 2023
Click here for a pdf of this information.
Atmospheric River Brings Record-Breaking Precipitation to California
A strong atmospheric river (AR) made landfall over Northern California on 29 Dec
AR 1/AR 2 conditions (based on the Ralph et al. 2019 AR Scale) were observed across much of coastal California
While the initial pulse of moisture transport produced little precipitation, two additional stronger pulses produced heavy precipitation across portions of Northern and Central California on 30–31 Dec
More than 5 inches of storm-total precipitation fell across the San Francisco Bay Area, while more than 10 inches fell over portions of the Sierra Nevada
More than 3 feet of snow fell in the higher terrain of the Central and Southern Sierra Nevada
Warm air associated with this AR limited snowfall accumulations in the Northern Sierra Nevada
The combination of heavy rainfall and high antecedent soil moisture and streamflow conditions led to riverine and urban flooding
Multiple levee breaks along the Cosumnes River caused major flooding on Highway 99 and led to water rescues and at least one fatality
Heavy rain falling on nearly saturated soils triggered mudslides and rockslides in Northern and Central California
Strong winds downed trees and power lines, resulting in numerous power outages in the Sacramento area
The severe flooding along the Cosumnes River was poorly forecast at lead times < 48 hours due to large errors in precipitation forecasts, which substantially underestimated the observed precipitation in the Upper Cosumnes watershed
MIMIC-TPW2 Total Precipitable Water
Valid 0000 UTC 29 December 2022 – 0600 UTC 1 January 2023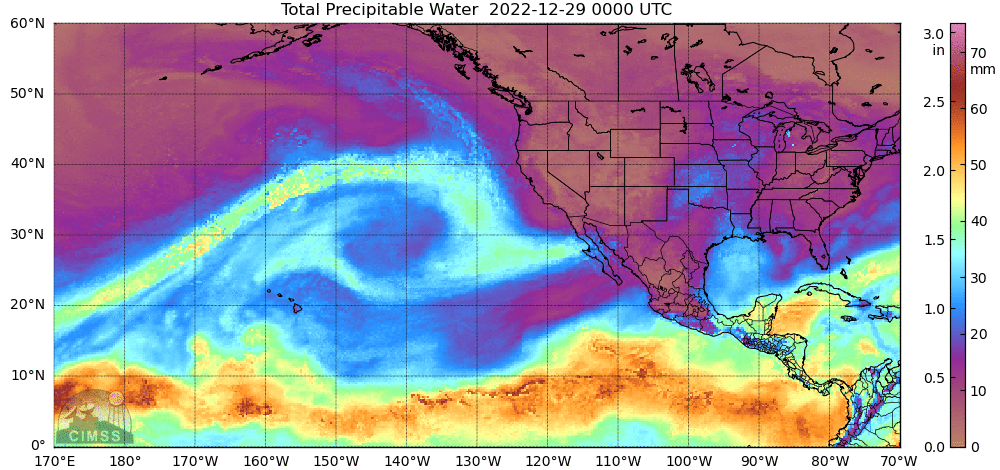 Click images to see loops of NAM IVT/IWV analyses

Valid 0000 UTC 29 December 2022 – 0000 UTC 2 January 2023
Summary provided by C. Castellano, S. Bartlett, J. Kalansky, S. Roj, and F.M. Ralph; 4 January 2023
To sign up for email alerts when CW3E post new AR updates click here.
*Summary products are considered experimental