CW3E Fosters Closer Connections at the Head of the Yampa River in Steamboat Springs, CO
February 24, 2020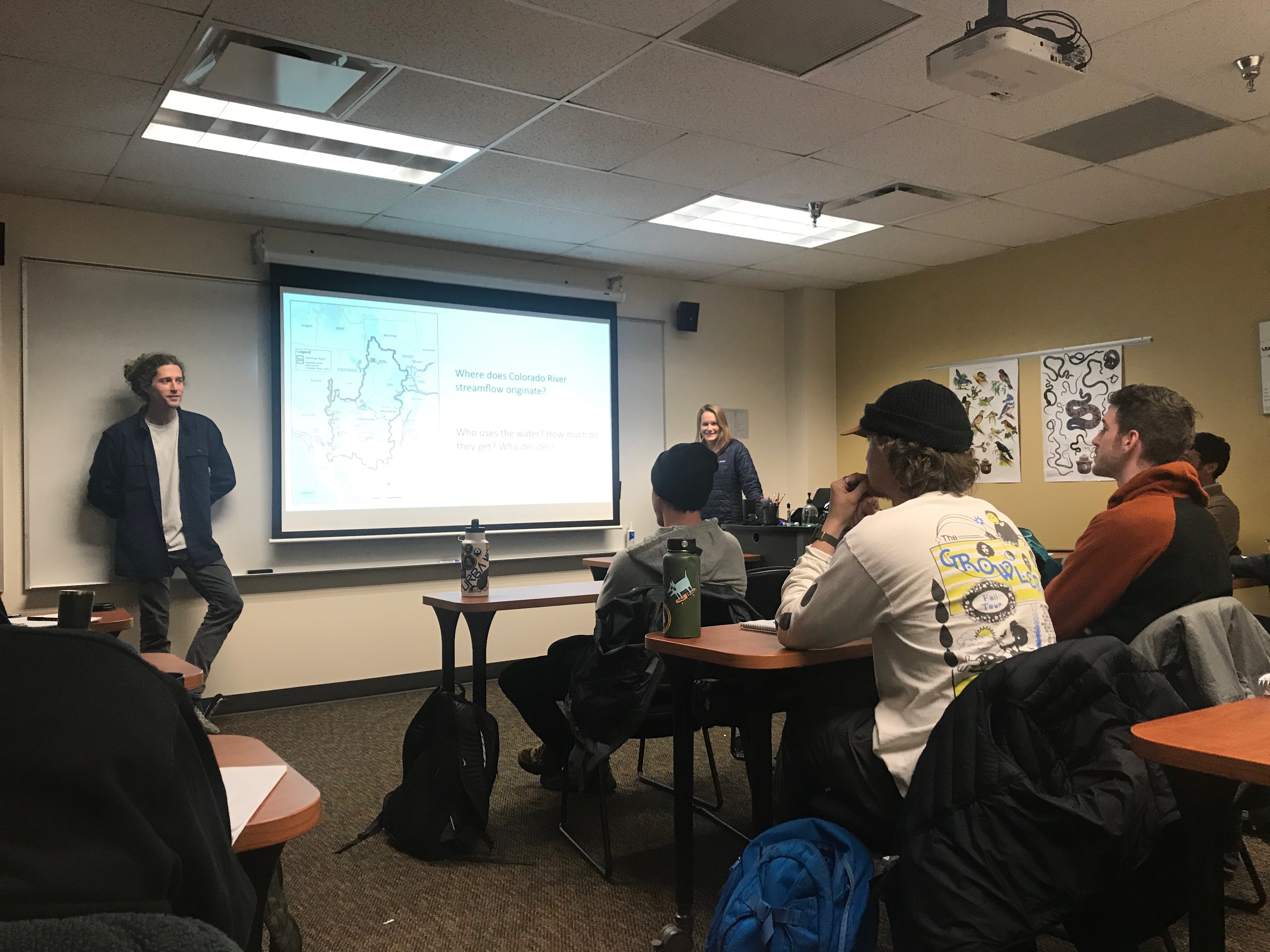 Early this February, CW3E Ph.D. students Kara Voss and Mike Sierks visited Steamboat Springs, Colorado to learn more about the headwaters of the Colorado River, meet with key stakeholders in the area, and share information about the connections between the work of CW3E and water issues in the region. This coming June CW3E is set to co-host the annual Yampa Basin Rendezvous (YBR) for the third consecutive year. The YBR is an annual conference held at Colorado Mountain College where members of the Steamboat community, including commercial, agricultural and recreational users of water from the Yampa River, gather with other organizations including CW3E to learn and share information about how to use climate and meteorological information to improve the resilience of their community. YBR is an effort to connect graduate students, post-doctoral scholars, researchers, staff and faculty from CW3E to river basins throughout the west, to pursue the mission and goals of this new center. CW3E is based at the University of California San Diego's (UCSD) Scripps Institution of Oceanography and is building a regional community of scientists and engineers to work on western weather and climate problems.
Two members of the YBR Steering committee — Sarah Jones, the former director of the Yampa Valley Sustainability Council and current Sustainability and Community Engagement Director for Steamboat Ski Resort, and Nathan Stewart, Professor at Colorado Mountain College, graciously hosted Kara and Mike's visit allowing them to connect with individuals from a variety of sectors. Mike and Kara met with local water managers, the Colorado State Forest Service, Steamboat Ski Resort, and local government officials responsible for Steamboat's climate action plan. The goal of these meetings was to learn about the different groups' planning and operations and understand how CW3E's expertise could overlap with their work in the future. Mike and Kara gave several guest lectures at Colorado Mountain College and at the local high school, sharing CW3E's work with an audience of enthusiastic students, and gave Steamboat Ski Resort's first science 'Brown Bag' talk discussing how changing climate has been observed to influence snowpack in the western U.S. over recent decades. Mike and Kara also met with scientists at Storm Peak Laboratory, a cloud and aerosol microphysics observing laboratory located at the top of Steamboat Ski Resort, to discuss future collaboration and research directions. Between skiing to meetings, talking about cool science, and engaging with fascinating and warm members of the Steamboat Springs community, the Ph.D. candidates expressed that they never thought a work trip could be this good!
This meeting represents a continuing connection between Steamboat Springs, home of the Yampa River (headwaters of the Colorado River), and CW3E, based in San Diego (which gets a significant amount of water via the Colorado River).