CW3E Hosts AR and Forecast Tool Informational Session with USACE Portland District
March 1, 2022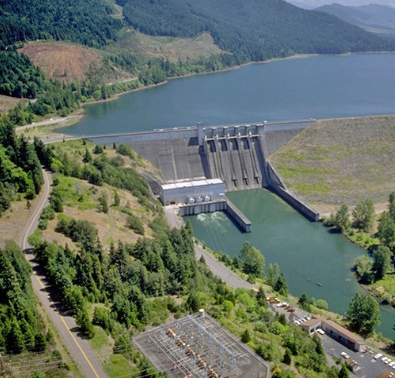 Lookout Point Dam located on the Middle Fork Willamette River forms Lookout Point Lake, which has the largest water storage capacity within the Willamette River Basin. Photo courtesy USGS.
Brian Kawzenuk, CW3E meteorologist and applications programmer, and Julie Kalansky, CW3E Operations Manager, recently met with members of the U.S. Army Corps of Engineers Portland District to discuss atmospheric rivers, novel hydrometeorologic observations associated with atmospheric rivers and extremes, and CW3E forecast tools as it relates to FIRO. Members from the USACE Portland District included engineers, reservoir and project managers, and others working in flood risk management focused on the Willamette Valley in Northwest Oregon. The Willamette River is a main tributary to the Columbia River and has multiple dams throughout the system for the purposes of hydropower, flood risk management, and water storage.
During the meeting CW3E provided a brief overview of ARs and their impacts on the Western U.S., as well as insight into how ARs are observed, including CW3E's observational network, and how they are forecasted. A review of CW3E forecast tools was provided with insight into the forecast of an AR that made landfall over the Willamette Valley in early January 2022. This session was aimed to allow USACE members to become more familiar with CW3E's available tools and to better understand how they can be utilized to better interpret the forecast. Lastly a brief tour and demonstration of the CW3E website was provided.
This was a great opportunity to share information between CW3E and the Portland District as the FIRO program is beginning to assess transferability through a screening process.