CW3E Publication Notice
Training the Next Generation of Researchers in the Science and Application of Atmospheric Rivers
January 3, 2020
Dr. Anna Wilson, Field Research Manager of the Center for Western Weather and Water Extremes (CW3E), recently published a Meeting Summary in the Bulletin of the American Meteorological Society on the 2019 Atmospheric Rivers Colloquium Summer School. Co-authors include all members of the International Steering Committee, and CW3E graduate student Will Chapman and Director Dr. Marty Ralph.
CW3E is an interdisciplinary hub for stakeholders and scientists interested in collaborative research on atmospheric rivers (ARs) and their impacts. The International Atmospheric Rivers Conference (IARC), which has been held every two years since 2016, is one of several events organized by CW3E designed to foster these collaborations.
At IARC 2018, the idea was hatched to bring students together with AR experts. This activity aligns directly with CW3E's core commitment to integrating research with education. The Atmospheric Rivers Colloquium Summer School included 31 students and 19 instructors, and was held in June-July 2019 at the Scripps Institution of Oceanography, University of California San Diego. It was sponsored and hosted by CW3E, with support from the U.S. Army Corps of Engineers' Atmospheric Rivers / Forecast-Informed Reservoir Operations Program.
The overarching goal of the Colloquium was to provide the next generation of atmospheric scientists with an in-depth look at cutting edge techniques in understanding, monitoring, and predicting ARs and their associated high-impact weather. To achieve this goal, the Colloquium brought together a diverse group of early and mid-career researchers, senior scientists, and practitioners who use AR information. The attendees ranged from high school to Ph.D. graduates from 25 different institutions in 11 countries (Fig. 1). The lectures were given by leading atmospheric scientists and were based on the soon to be released AR monograph. In addition to daily lectures, the agenda included time for the students to interact with the researchers and gain hands-on experience.
For more details on the Colloquium, please see the following links:
https://cw3e.ucsd.edu/the-ar-colloquium-kicks-off/
https://cw3e.ucsd.edu/week-2-of-the-ar-colloquium-is-underway/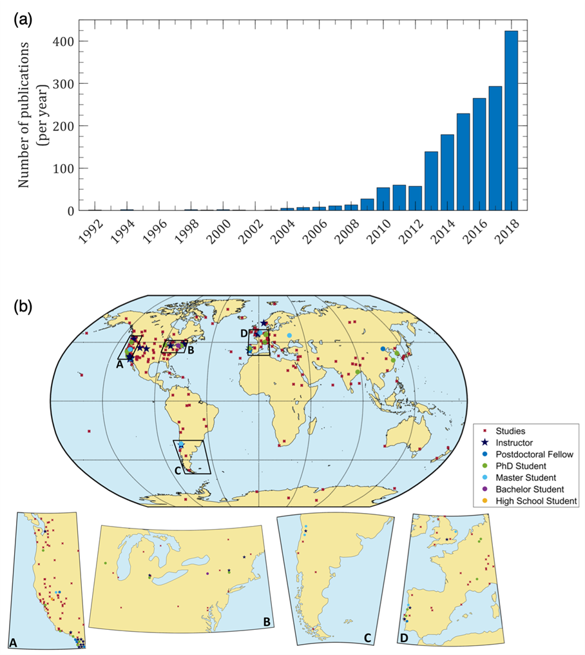 Figure 1: (a) Peer review journal articles referring to the topic of ARs published per year. The 2019 count represents January – August. Papers were counted via Google Scholar. (b) Locations (asterisks and circles) of Colloquium Summer School participants by education level, instructors, and study locations (red squares) of ARs from Fig. 1a (adapted from Fig. 1 of Wilson et al. 2019).
Wilson, A. M., W. Chapman, A. Payne, A. M. Ramos, C. Boehm, D. Campos, J. Cordeira, R. Garreaud, I. V. Gorodetskaya, J. J. Rutz, C. Viceto, and F. M. Ralph, 2019: Training the Next Generation of Researchers in the Science and Application of Atmospheric Rivers. Bull. Amer. Meteor. Soc., https://doi.org/10.1175/BAMS-D-19-0311.1..
AR Colloquium Summer School International Steering Committee Members:
Christoph Boehm (student member), University of Cologne
Diego Campos (student member), University of Chile; Dirección Meteorológica de Chile
Will Chapman (student member), Center for Western Weather and Water Extremes, UC San Diego
Dr. Jason Cordeira, Plymouth State University
Dr. Rene Garreaud, University of Chile
Dr. Irina Gorodetskaya, University of Aveiro
Dr. Ashley Payne, University of Michigan
Dr. F. Martin Ralph, Center for Western Weather and Water Extremes, UC San Diego
Dr. Alexandre Ramos, University of Lisbon
Dr. Jonathan J. Rutz, NOAA National Weather Service Western Region
Carolina Viceto (student member), University of Aveiro
Dr. Anna M. Wilson, Center for Western Weather and Water Extremes, UC San Diego