CW3E Internship Program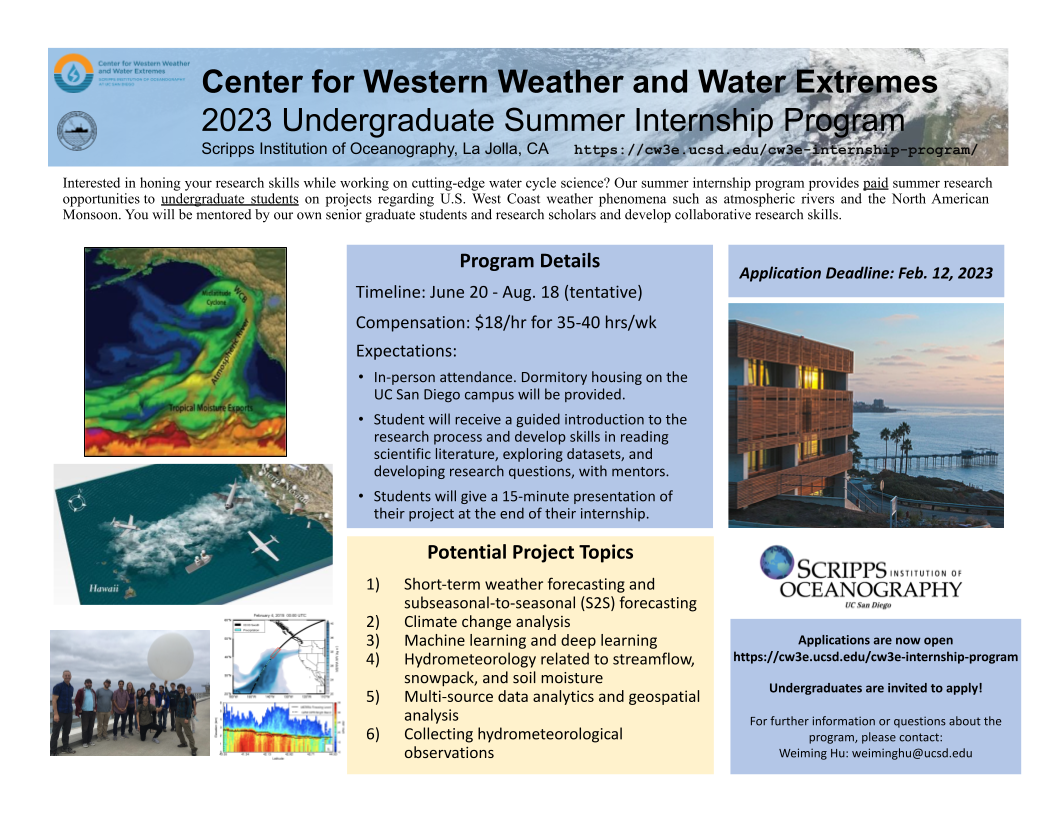 Click here for the summer 2023 intern handbook
Intern selection for summer 2023 is complete! Look for participant bios coming soon.
Purpose
The Center for Western Weather and Water Extremes (CW3E) leads research and operational programs aimed to better understand and improve the predictability of extreme weather events in the western U.S., such as atmospheric rivers and the North American monsoon, among many other research areas. For more information on what we do, please browse our website.
All undergraduate students are encouraged to apply, regardless of experience level. The goal of this program is to provide summer research opportunities to undergraduate students who are interested in one or more of CW3E's research areas. This program welcomes applications from both students with prior research experience and students who have not had prior research experience or may not have access to a research lab at their home institution.
Program Details
Timeline: 8 week program from June 26 – August 18, 2023
Location: Scripps Institution of Oceanography campus in La Jolla, CA
Compensation: $18/hr for 35-40 hours/week. Paid housing on the UCSD campus is also provided. Other costs, including food and parking, will not be reimbursed and are the responsibility of the intern.
Program Eligibility
Undergraduate students are eligible to apply. We will also accept applications from undergraduate students who plan to graduate in May/June 2023.
No prior research or professional experience is required. All students who are interested in gaining hands-on research experience in one or more of CW3E's research areas are encouraged to apply, regardless of experience level.
For international students, we are unable to reimburse any visa application costs.
Application
Applications for summer 2023 are closed.
The application form consists of several short and longer answer questions to gauge your interests, motivations, and experience.
You will also be asked to upload a copy of your resume, unofficial transcript, and contact information for at least one reference.
Applications will be evaluated primarily based on your submitted resume and short/long answer responses. Relevant experience will be considered but is not required. Points will be awarded for clearly articulating your motivations for applying, how you hope the program will benefit you, and any unique experiences/perspectives you will bring to the center.
Desired Outcomes
Students will complete a research project guided by an advanced graduate student, postdoctoral scholar, or staff researcher at CW3E.
CW3E will provide a hands-on and interactive learning experience for the visiting students. In addition to the primary research project, there will also be organized weekly discussions and other events.
Students will gain skills in areas including meteorology, data analysis, scientific visualizations, and oral/written presentations.
Students may also have the opportunity to participate in fieldwork in sites across California.
Program Expectations
In-person attendance. Dormitory housing on the UCSD campus will be provided.
Students will keep a detailed research notebook of their methods and results so that work on their project may be continued after the program ends.
Students will deliver a 2-page summary and a 15-minute presentation of their project at the end of the internship.
Potential Project Topics
Potential projects could explore the following topics:
Short-term weather forecasting and subseasonal-to-seasonal (S2S) forecasting
Climate change analysis
Machine learning and deep learning
Hydrometeorology related to streamflow, snowpack, and soil moisture
Multi-source data analytics and geospatial analysis
Collecting hydrometeorological observations
Please refer to this page for a summary of previous years' research projects.
Contact
For more information or questions about the program please contact Weiming Hu.