CW3E Internship Program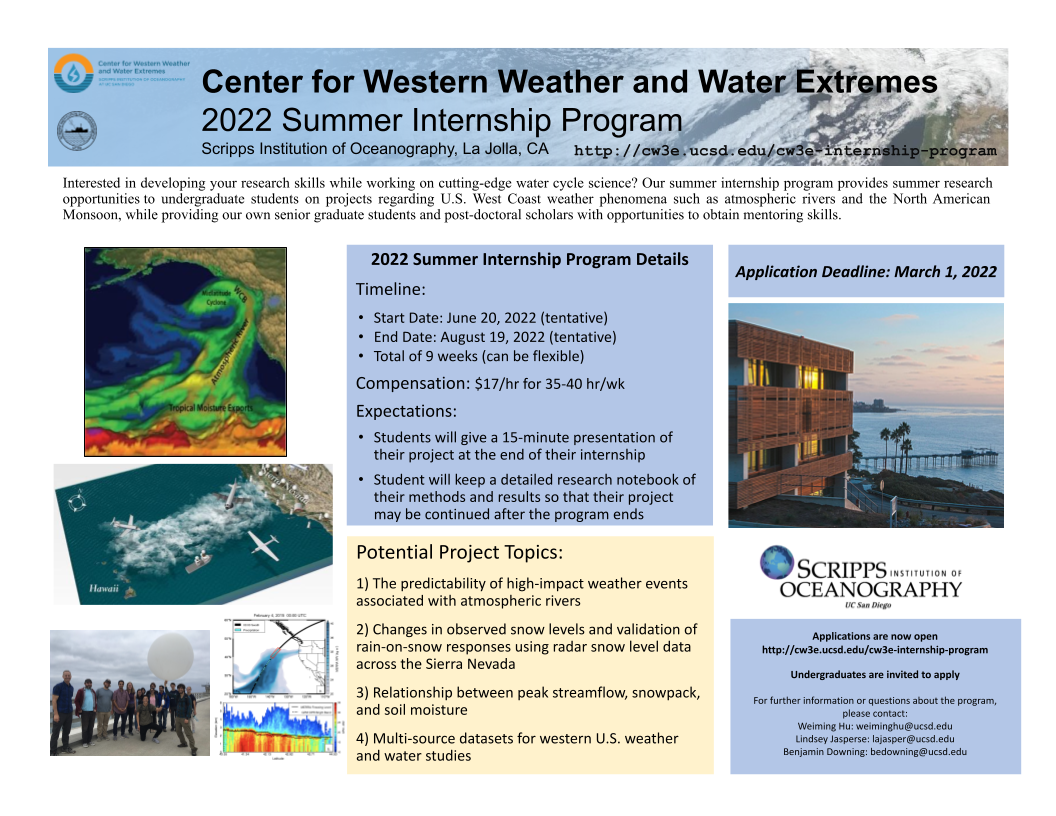 Application deadline: March 1, 2022
Purpose
To provide summer research opportunities to undergraduate students on projects regarding U.S. West Coast weather phenomena such as atmospheric rivers and the North American Monsoon, and to provide our own senior graduate students and post-doctoral scholars with opportunities to obtain mentoring skills.
Desired Outcomes
Students will complete a research project guided by an advanced graduate student or post-doctoral scholar under the leadership of a senior researcher at CW3E.
CW3E will provide a hands-on and interactive learning experience for the visiting students.
At a minimum, students will gain skills in meteorology, data analysis, scientific visualization and oral and written presentations. Depending on the project, additional skills will be strengthened or developed.
Program Details
Start Date: June 20, 2022 (tentative)
End Date: August 19, 2022 (tentative)
Compensation: Interns can expect to be paid $17/hr for 35-40hr/wk for the program duration. Additionally, if the program is allowed to be held in person, CW3E will provide housing on campus and travel expenses.
Program Expectations
Students will give a 15-minute presentation of their project at the end of their internship.
Student will keep a detailed research notebook of their methods and results so that work on their project may be continued after the program ends.
Potential Projects
The predictability of high-impact weather events associated with atmospheric rivers
Changes in observed snow levels and validation of rain-on-snow responses using radar snow level data across the Sierra Nevada
Relationship between peak streamflow, snowpack, and soil moisture
Multi-source datasets for western U.S. weather and water studies
For more information or questions about the program please contact Weiming Hu.
COVID-19 STATEMENT
Due to the large uncertainties surrounding the development of the COVID-19 pandemic we will be unable to confirm an in-person program at this time. We will be following the precedent set by the University of California San Diego and county health officials to ensure the safest form of participation. The CW3E Summer Intern Program WILL NOT be canceled if an in-person program can not be safely operated, nonetheless, a degree of flexibility will be built into the program from the beginning to allow full remote participation. If you have questions or concerns please do not hesitate to contact Weiming Hu.
Click here to see previous year's interns.