Atmospheric River Recon
AR Recon Data
Global Sounding Balloons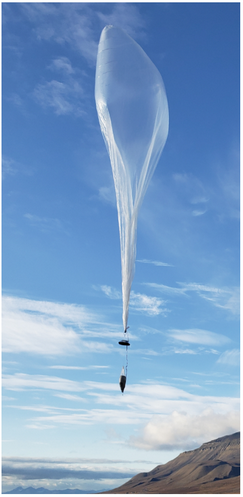 WindBorne Systems designs, manufactures, and operates an artificial intelligence-enabled, long-duration global sounding balloon (GSB) that collects atmospheric observations from 1 km to 15 km above the earth's surface. The GSB measures the same data points as a traditional weather balloon but can remain aloft for weeks on end and reach far remote locations as it travels throughout the world along wind trajectories.
The WindBorne GSB is equipped to measure barometric pressure, temperature, relative humidity, and wind speed and direction. The GSB can be remotely directed to ascend and descend up to 50 times per flight, enabling both collection of repeated vertical profiles and navigation by ascending/descending to vertical levels where winds can propel the balloon towards target regions of interest.
WindBorne has launched over 750 GSBs from 15 sites worldwide over the past 4 years, including 101 flights that were launched in 2021 and 2022 specifically to collect observations across the Pacific Ocean during the winter atmospheric river season. During winter of 2023/2024, in support of atmospheric river reconnaissance, WindBorne will launch 40 GSBs per month from a permanent launch site in South Korea targeting some of the most remote regions of the North Pacific. These GSBs will provide vital in-situ observations to augment our understanding of atmospheric rivers.
To learn more about the WindBorne GSB and the soundings we are collecting in partnership with CW3E, please visit our web site, https://windbornesystems.com/, and click "SIGN IN" for data access.