CW3E and Yuba Water Agency Visit YES Charter Academy for Lesson on ARs
April 6, 2022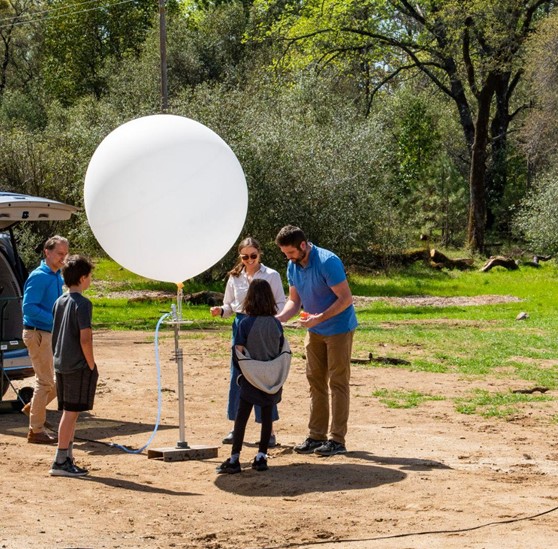 Jasperse and Hecht work with students to launch a weather balloon. Photo taken by Boesch (Yuba Water Agency).
CW3E staff, Dr. Anna Wilson (Field Research Manager), Chad Hecht (Meteorology Staff Researcher), and Lindsey Jasperse (Field Researcher) joined with Yuba Water Agency partners DeDe Cordell (Communications Manager), Bonnie Dickson (Senior Public Information Officer), and Alex Boesch (Public Information Specialist) at the Yuba Environmental Science (YES) Charter Academy for a lesson and demonstration focused on ARs. The visit provided students with a unique hands-on opportunity to explore the science behind ARs, the instruments and methods CW3E uses to study them, and their importance in the Yuba River Watershed and across the western U.S.
The visit included both a classroom lesson and balloon launch demonstration. Throughout the classroom lesson with Mr. Cabrera's 6th grade students, Cordell, Hecht, and Wilson covered topics ranging from AR science, innovative water resource management efforts such as FIRO, to how they became interested in pursuing their careers in science. After the classroom lesson, grades 5th through 8th joined in to help with a demonstration weather balloon launch. Students were able to participate in the live balloon release in addition to experiencing real-time data collection as the balloon expanded into the atmosphere. After the weather balloon popped at 25.265km, traveling 61.4km horizontally eastward, CW3E provided YES Charter Academy with the data for students to explore further in their classroom lessons. The visit was also featured in the local Appeal-Democrat's story "A real-world science lesson – YES Charter Academy students learn from weather experts" and live-streamed for online viewers.
CW3E is grateful to partner with Yuba Water Agency and YES Charter Academy to provide students with valuable, hands-on experiences, and looks forward to continuing these efforts with future outreach events. Visit Yuba Water Agency's Educational Videos Water Education section to learn more about the event and access the recorded live-stream video.
Jasperse and Hecht work with students to launch a weather balloon. Photo taken by Boesch (Yuba Water Agency).