CW3E Event Summary: 22 December 2021 – 1 January 2022
January 5, 2022
Click here for a pdf of this information.
Atmospheric River and Upper-Level Systems Bring Heavy Rain and Snow to the Western US
An atmospheric river (AR) made landfall over California on 22 Dec and gradually strengthened as it spread across the interior southwestern US
AR 2/AR 3 conditions (based on the Ralph et al. 2019 AR Scale) were observed over coastal Central and Southern California
Significant inland penetration of this AR produced AR 3 conditions over southern Arizona and heavy snow in the Upper Colorado River Basin
After the AR dissipated, a series of upper-level shortwaves brought additional rain and heavy snow to much of the western US
Low freezing levels allowed for accumulating snowfall in the lower elevations of Washington, Oregon, and Northern California
Portions of the Sierra Nevada, the Southern California Transverse Ranges, and the Sawatch Range in Colorado received more than 10 inches of total precipitation
Several feet of snow fell across the Cascades, the Sierra Nevada, and the Intermountain West, with the heaviest snowfall (> 10 feet) near Lake Tahoe and in western Colorado
These storms produced dramatic increases in snowpack in the Sierra Nevada and Upper Colorado River Basin
As of 1 Jan, statewide snowpack in California was 154% of normal, and statewide water-year-to-date precipitation had already exceed the statewide total precipitation during WY 2021
Heavy snow in the Sierra Nevada caused major travel disruptions and numerous power outages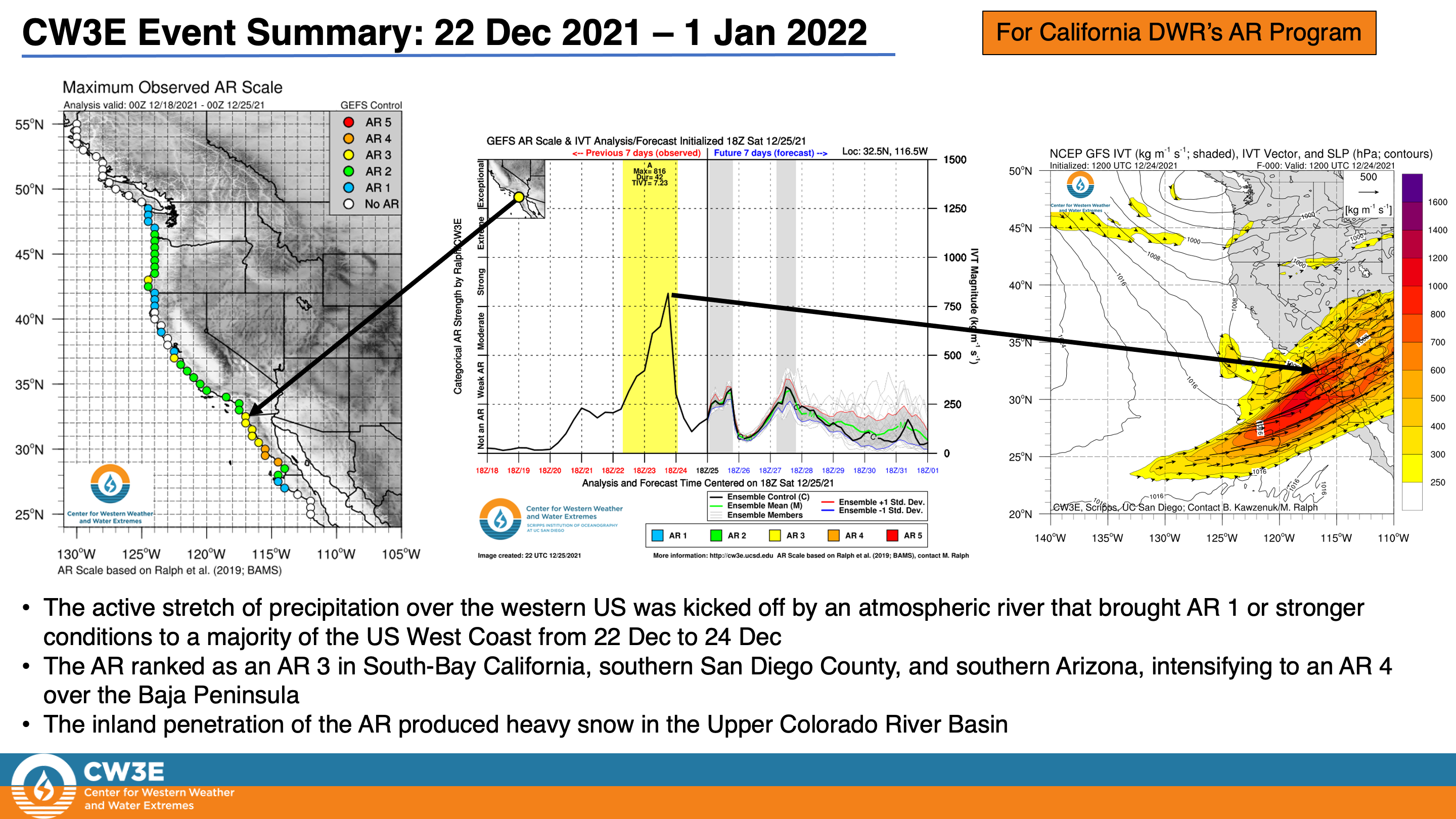 Click images to see loops of GFS IVT/IWV analyses

Valid 0000 UTC 20 December – 1800 UTC 25 December 2021
Summary provided by C. Castellano, C. Hecht, S. Roj, J. Cordeira, J. Kalansky, B. Kawzenuk, F.M. Ralph; 5 January 2022
To sign up for email alerts when CW3E post new AR updates click here.
*Outlook products are considered experimental