CW3E Event Summary: 9-11 September 2022
September 13, 2022
Click here for a pdf of this information.
Rare Tropical Cyclone Brings Heavy Rain and Strong Winds to Southern California
Tropical Storm Kay and its remnants produced heavy rain and high winds across portions of Southern and Central California during 9–11 September
Some locations in the San Diego County mountains recorded more than 4 inches of rain on 9 September. Wind gusts of over 100 miles per hour were also recorded.
Precipitable water observed during this event in San Diego was 2.35 inches, the 3rd highest during the period of record and the highest value observed during the month of September
Heavy precipitation over desert areas resulted in roadway flooding, debris flows, and rockslides which caused prolonged roadway closures in multiple locations
High winds forced multiple school districts to cancel school due to hazardous conditions
Power outages for more than 60,000 customers were reported across Southern California
Heavy rain helped to bring the Fairview and Radford fires under control. As of the morning of 13 September, Inciweb was reporting 62% and 67% containment, respectively
MIMIC-TPW2 Total Precipitable Water
Valid 0500 PDT 7 September – 1200 PDT 12 September 2022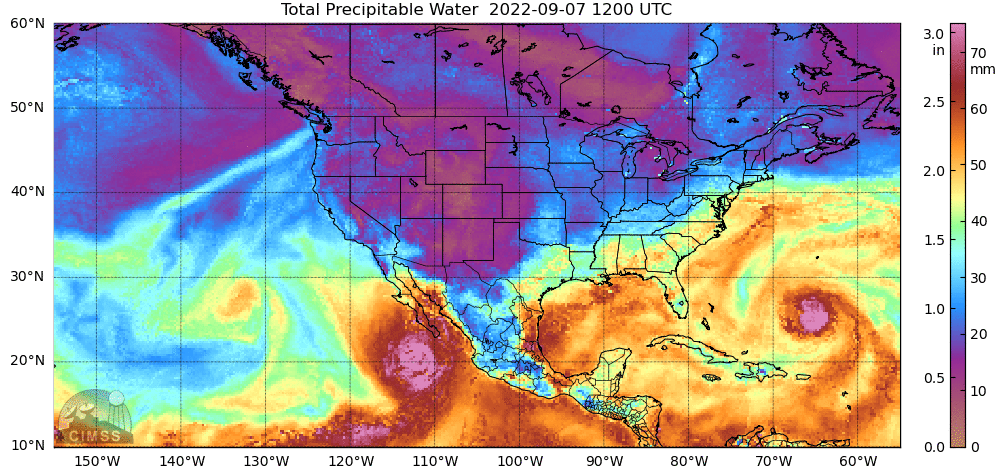 Summary provided by Shawn Roj, Chris Castellano, Samuel Bartlett, Chad Hecht, J. Kalansky, F.M. Ralph; 13 September 2022
To sign up for email alerts when CW3E post new AR updates click here.
*Outlook products are considered experimental