CW3E Post Event Summary: 02 February 2019 AR
February 5, 2019
Click here for a pdf of this information.
Atmospheric River Impacts California
The major storm that struck California on 2-3 February 2019 was an Atmospheric river storm
At landfall, the new AR Scale characterized it as an "AR Cat 3" along the Central California Coast using the Ralph et al (2019) AR impacts scale. It reached "strong" intensity
The merger of a tropical and mid-latitude system led to the development of a strong AR over the Eastern Pacific
The strong AR brought heavy precipitation and created numerous impacts
Several locations in Southern California experienced flash flooding and mud flow conditions, closing numerous roads
A narrow cold frontal rain band (NCFR) developed and produced the heaviest short-lasting rain rates and peak winds in key areas
SSMI/SSMIS/AMSR2-derived Integrated Water Vapor (IWV)
Valid 0000 UTC 31 January – 2300 UTC 03 February 2019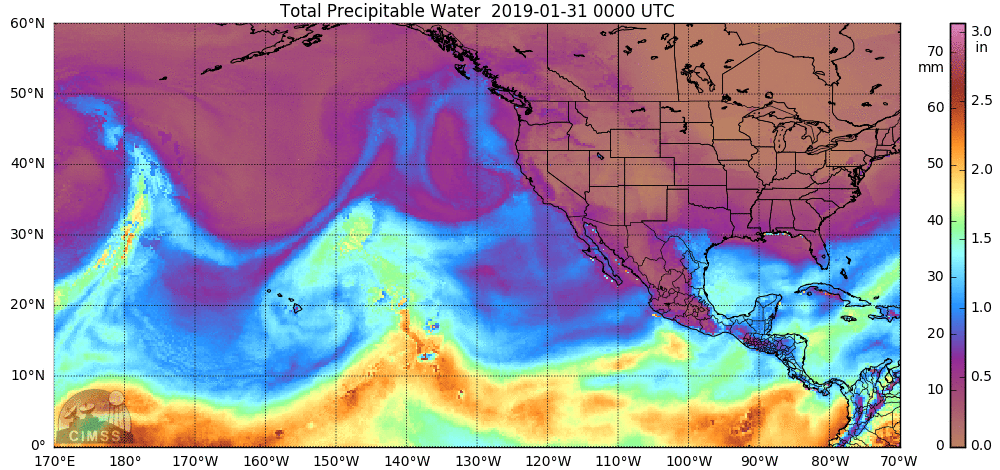 Images from CIMSS/Univ. of Wisconsin
Click IVT or IWV image to see loop of GFS Analysis

Valid 0000 UTC 31 January – 1800 UTC 03 February 2019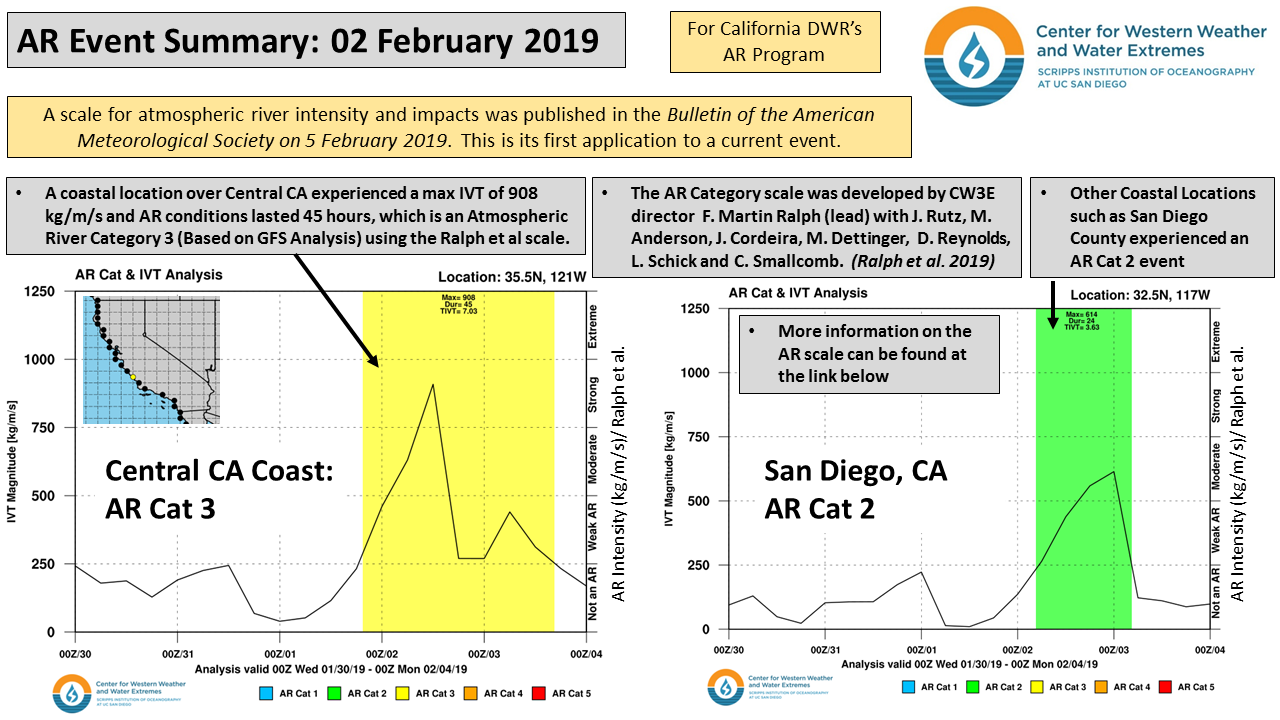 Link to BAMS Article Coming Soon!
Numerous CW3E scientists were deployed to Bodega Bay, CA in Sonoma County and Ukiah, CA in Mendocino County to launch weather balloons in order to collect atmospheric profiles of the AR
A team was also deployed to collect stream samples throughout the East Fork Russian River watershed to further understand the hydrological processes that lead to high flows into Lake Mendocino
This data collection effort is a part of the larger Lake Mendocino Forecast Informed Reservoir Operations (https://cw3e.ucsd.edu/firo/)
Summary provided by C. Hecht, B. Kawzenuk, M. Fish, F. Cannon, and F. M. Ralph; 8 AM PT 05 February 2019