CW3E Event Summary: 10-16 November 2021
November 17, 2021
Click here for a pdf of this information.
Atmospheric Rivers Produce Heavy Rainfall, Flooding, and Landslides in the Pacific Northwest

Multiple strong atmospheric rivers (ARs) impacted the Pacific Northwest between 10 Nov and 15 Nov
The first AR produced AR 3/AR 4 conditions (based on the Ralph et al. 2019 AR Scale) in coastal Oregon and southern coastal Washington
The second AR produced AR 4 conditions in coastal Washington and northern coastal Oregon
The intensification of a mesoscale frontal wave (MFW) led to a secondary pulse in moisture transport that prolonged the duration of the 2nd AR and brought borderline AR 5 conditions (max IVT > 1000 kg m−1 s−1; AR duration > 48 hours) to Tillamook County, OR
Parts of the Olympic Peninsula and Washington Cascades received more than 15 inches of total precipitation from these ARs
Heavy rain falling on moist soils led to widespread flooding and mudslides, particularly in northern Washington and southern British Columbia following the second AR landfall
Strong winds and flooding during the second AR also created dangerous travel conditions, downed numerous trees, and caused widespread power outages in western Washington
Click images to see loops of GFS IVT/IWV analyses

Valid 0000 UTC 10 November – 0000 UTC 16 November 2021
MIMIC-TPW2 Total Precipitable Water
Valid 0000 UTC 10 November – 0000 UTC 16 November 2021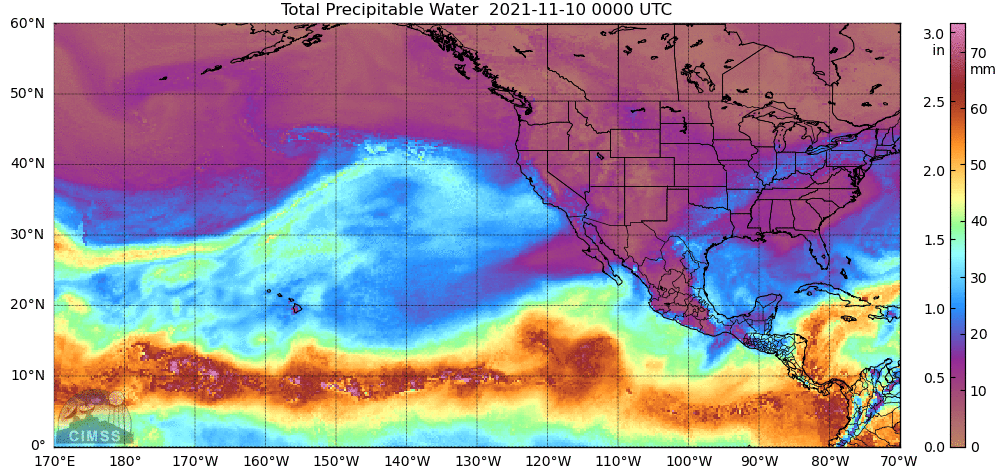 Summary provided by Chad Hecht, Chris Castellano, Shawn Roj, Brian Kawzenuk, Jay Cordeira, F.M. Ralph; 17 November 2021
To sign up for email alerts when CW3E post new AR updates click here.
*Outlook products are considered experimental