CW3E Event Summary: 7-8 November 2022
November 10, 2022
Click here for a pdf of this information.
A Moderate Strength Atmospheric River with Strong Dynamical Forcing Produced Heavy Precipitation Throughout California
California was impacted by a dynamic storm system on 7 and 8 November that featured both a landfalling AR and potent upper-level trough that combined to produce strong upslope moisture flux and heavy precipitation
The AR was ranked as an AR2 (based on the Ralph et al. 2019 AR Scale) was observed in coastal San Diego County with AR conditions persisting for 24 consecutive hours with maximum IVT values exceeding 500 kg m−1 s−1
Precipitation totals in the Transverse Ranges of Southern California exceeded 8 inches with widespread totals around the state exceeding 2 inches
More than 2 feet of snow fell throughout the Sierra Nevada Mountains with locations in the Central and Southern Sierra picking up as much as 5 feet of snow
CW3E's surface meteorology station at Seven Oaks Dam observed 2 inches of rain during the event, accounting for roughly 60% of water year to date precipitation at the dam
Debris flows occurred in the vicinity of the El Dorado and Apple fires, which were under evacuation warnings, as well as in other parts of the San Bernardino Mountains causing HWY 38 and 18 to close for a short time
The NWS confirmed that an EF-0 tornado touched down on 8 Nov near Galt in Sacramento County
MIMIC-TPW2 Total Precipitable Water
Valid 0000 UTC 6 November – 0000 UTC 10 November 2022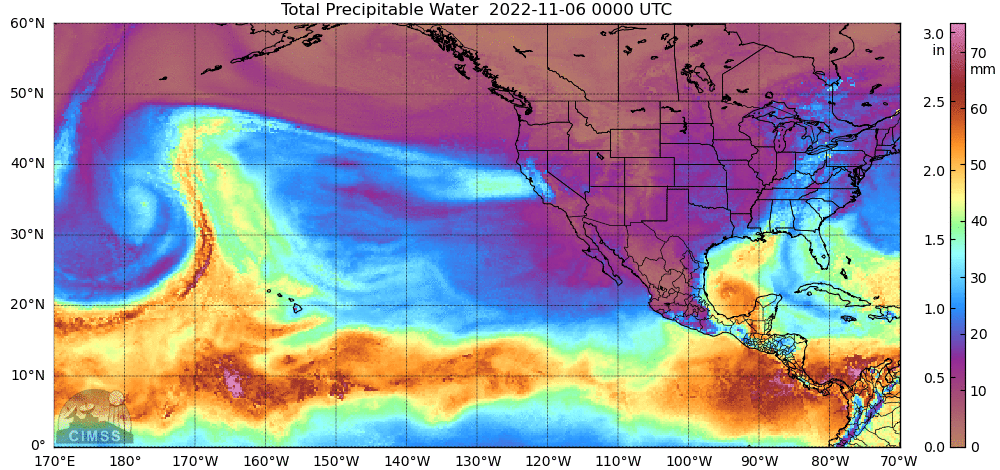 Summary provided by S. Roj, S. Bartlett, J. Cordeira, C. Castellano, J. Kalansky, and F.M. Ralph; 10 November 2022
To sign up for email alerts when CW3E post new AR updates click here.
*Outlook products are considered experimental