CW3E Event Summary: 3-5 November 2022
November 9, 2022
Click here for a pdf of this information.
Strong Atmospheric River Brings Heavy Precipitation to Northwestern US
A strong atmospheric river (AR) made landfall over the Pacific Northwest on 3 Nov
The first AR produced AR 3/AR 4 conditions (based on the Ralph et al. 2019 AR Scale) in coastal Oregon and southern coastal Washington
AR 3 conditions (based on the Ralph et al. 2019 AR Scale) were observed in coastal Washington and northern coastal Oregon, while AR 1/AR 2 conditions were observed in southern coastal Oregon and coastal Northern California
AR 2/AR 3 conditions were also observed east of the Cascades due to significant inland penetration of the AR
This AR produced at least 5–10 inches of precipitation over portions of western Washington and northwestern Oregon, as well as 2–5 inches of precipitation in parts of the interior northwestern US
At least 1–3 feet of snow fell in the higher terrain of the Washington Cascades, the Blue Mountains, and the Northern Rockies
Heavy rainfall on 4 Nov caused riverine flooding on the western side of the Washington Cascades, with multiple rivers exceeding moderate flood stage
Strong winds on 4 Nov downed trees and power lines, resulting in numerous power outages in northwestern Washington
This AR was sampled by the 53rd Weather Reconnaissance Squadron as the first mission of the 2023 AR Recon season, with data from 23 dropsondes assimilated into the 00Z 5 Nov GFS model run
MIMIC-TPW2 Total Precipitable Water
Valid 0000 UTC 3 November – 0000 UTC 6 November 2022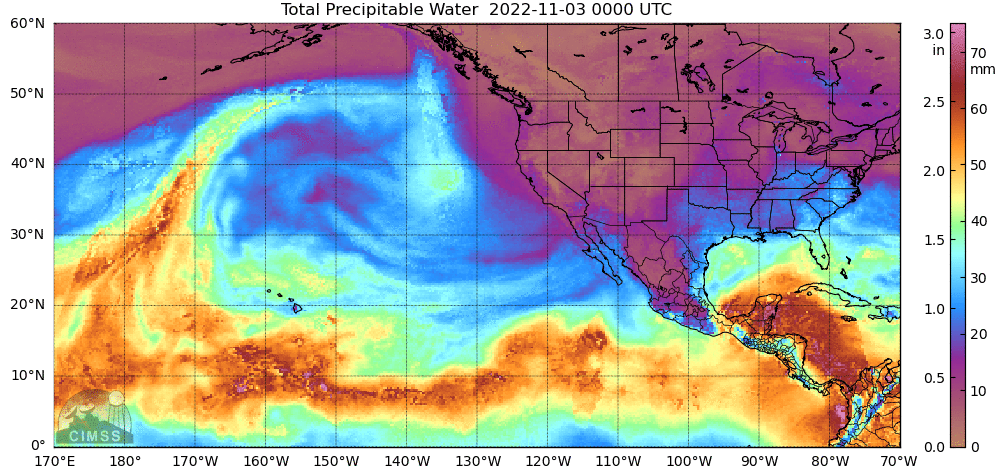 Summary provided by C. Castellano, S. Bartlett, J. Cordeira, J. Kalansky, S. Roj, and F.M. Ralph; 9 November 2022
To sign up for email alerts when CW3E post new AR updates click here.
*Outlook products are considered experimental