CW3E Graduate Student Returns as an Alumnus for the Rocky Mountain Science and Sustainability Network Summer Academy
May 31, 2019
CW3E graduate student, Tashiana Osborne, visited Colorado to meet undergraduate students participating in the 2019 Rocky Mountain Science and Sustainability Network (RMSSN) Summer Academy. Osborne, an RMSSN alumnus (2014), returned with a goal to help encourage younger students, and to give back to the leaders and program that helped empower her.
RMSSN aims to develop a diverse population of students ready to serve as stewards of natural places and to collaborate on issues relating to sustainability, biodiversity, and community engagement in the protection of natural resources. The Academy is in its tenth year, with support provided by the National Science Foundation, Beacham O'Malley Trust, and the National Park Service.
"With a mutual commitment to preserve and protect the resources, livelihoods, and cultures of the intermountain west and beyond, RMSSN will work to address regional sustainability issues by developing leaders who possess multidisciplinary skills, demonstrate scientific literacy, and embrace key principles of sustainability." — RMSSN.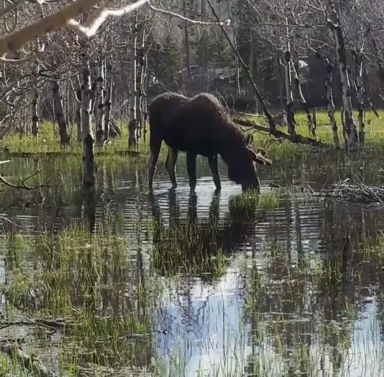 During the Academy, students visited Yellowstone, Grand Teton, and Rocky Mountain National Parks. Activities included an alumni panel, guided educational tours (focus: local sustainability efforts, flora and fauna, cultural histories), nature reflections, team-building ropes course challenges, and more. Students also learned through sessions with research scientists and university professors, park rangers and management, a U.S. Senate candidate, and others.
This year, 17 undergraduate students completed the program. Participants traveled from various regions across the U.S., and some from the Bahamas, Puerto Rico, Mexico, and France. For some of the students, it was their first time experiencing a national park.
Early on, the undergraduate students formed teams focused on distinct elements of the RMSSN mission. Teams sought advice from alumni and other program mentors. At the end of the Academy, each group presented on their efforts. One team, for example, assessed the inclusivity, accessibility, cultural representativeness and awareness of each park they visited. Another team used electronic devices to record bat noises, and shared their observations on bat behaviors.
| | |
| --- | --- |
| RMSSN group photo (PC: Dr. Stefan Moss) | Spending time outside before the stormy weather (PC: Miguel Trejo Rangel) |