CW3E Publication Notice
A decade of terrestrial water storage changes across the contiguous United States from GPS and GRACE
November 7, 2019
Susheel Adusumilli, CW3E collaborator Adrian Borsa, Francesca Silverii (IGPP/SIO/UCSD), and CW3E collaborator Hilary McMillian (SDSU), along with CW3E graduate student, Meredith Fish, recently published an article in Geophysical Research Letters titled, "A decade of terrestrial water storage changes across the contiguous United States from GPS and GRACE."
In the article, the authors used a novel combination of GPS and GRACE observations to provide a higher spatiotemporal resolution dataset of terrestrial water storage than current estimates over the years 2002-2017. This new dataset allows for the investigation of seasonal, interannual and sub-seasonal terrestrial water storage anomalies across the contiguous United States.
Two of the key points for this article were:
The ratio of interannual to seasonal water storage change varies widely across the USA, highlighting the local vulnerability to water stress.
Atmospheric river (AR) events drive rapid water storage increases across the western US, with the top 5% of ARs contributing 73% of the AR total.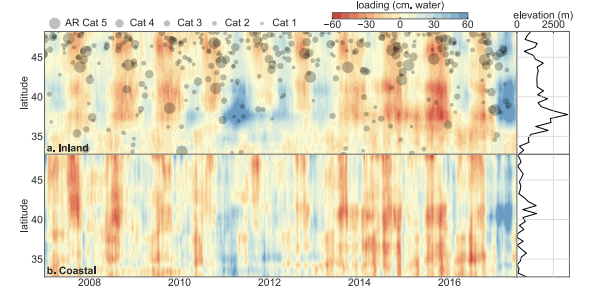 Figure 1: (Figure #4 from paper) shows the changes in terrestrial water storage anomaly over the western USA at inland and coastal regions. The circles represent atmospheric rivers, with centers indicating timing and sizes indicating magnitude.
Adusumilli, S., A. A. Borsa, M. A. Fish, H. K. McMillian, and F. Silverii, 2019: A decade of terr46strial water storage changes across the contiguous United States from GPS and GRACE. Geophysical Research Letters, 0, doi: 10.1029/2019GRL085370..