Enhanced Observations for Water Resilience in the Yampa River Basin: The 5th Annual Yampa Basin Rendezvous
November 17, 2022
The annual Yampa Basin Rendezvous (YBR) is part of a larger CW3E effort to connect graduate students, post-doctoral scholars, researchers, staff, and faculty from CW3E to local communities of river basins throughout the West, along with local, state, and federal experts in policy and relevant science. The overarching goal of the YBR is to encourage a community-centered approach to creating informed, adaptive, proactive, and science-based management strategies for Yampa Valley's natural resources and communities. This September, CW3E once again traveled to Steamboat Springs, Colorado, for the fifth annual Yampa Basin Rendezvous, after two years of virtual YBRs due to the pandemic. This two-day, community-oriented event, which built directly off the inaugural Rendezvous held in 2018, was organized by CW3E and partners from Colorado Mountain College, Yampa Valley Sustainability Council, Upper Yampa Water Conservancy District, and Friends of the Yampa. The day before the event, CW3E participated in the first annual Yampa Youth Water Festival. The question at the forefront of the 2022 Yampa Basin Rendezvous was: How are we, as a community, observing changes in our water cycle and working to build resilience in the face of those changes? The agenda can be found here.
Throughout the two days of the YBR, four panels and two field excursions, made up of and led by local and regional experts, provided an overview of the current state of, and future planning for, water resources in the Yampa River Basin. The event included a discussion of the role of economic, environmental, and cultural factors that influence water cycle observations for resource and resiliency planning. Understanding the health of Colorado River tributaries, such as the Yampa, through enhanced observations, is more crucial than ever this year, as downstream Lake Mead and Lake Powell sink to the lowest recorded water levels in history.
The first panel provided regional, state, and local perspectives on water priorities for resilience. The second panel was a discussion on the latest research on water efficiency, vulnerability, and critical needs as they pertain to observations. The first day ended with an afternoon field excursion to the Dry Lake Snotel station for a show-and-tell discussion on new and existing observational networks. On day 2, the first panel covered new technologies used (and old technologies used in new ways) for water resilience. The second panel provided practical insight on water stewardship and sustainable agricultural practices. The second day ended with a field excursion to Legacy Ranch in Steamboat Springs, where participants learned about soil health and water quality on working lands. All panel talks and discussions were recorded and can be viewed here.
An undergraduate student research symposium was held during the event, highlighting relevant research from students and interns at Colorado Mountain College and CW3E. Each student presented a "poster" in the form of a 3-slide lightning presentation.
CW3E is committed to continuing to grow engagement, learning, and beneficial outcomes to enhance science-and-community-based understanding and ideas to deal with a changing climate, economy and environment. The steering committee is grateful for the opportunity to partner with so many Yampa-based organizations and institutions on impactful events like the YBR, and to serve as a training ground for people across disciplines to advance their goals and careers in support of the incredible needs of the future. These needs are not only relevant for the Upper Colorado communities and environment but also of the millions of people who depend upon the precious resource it provides to people downstream.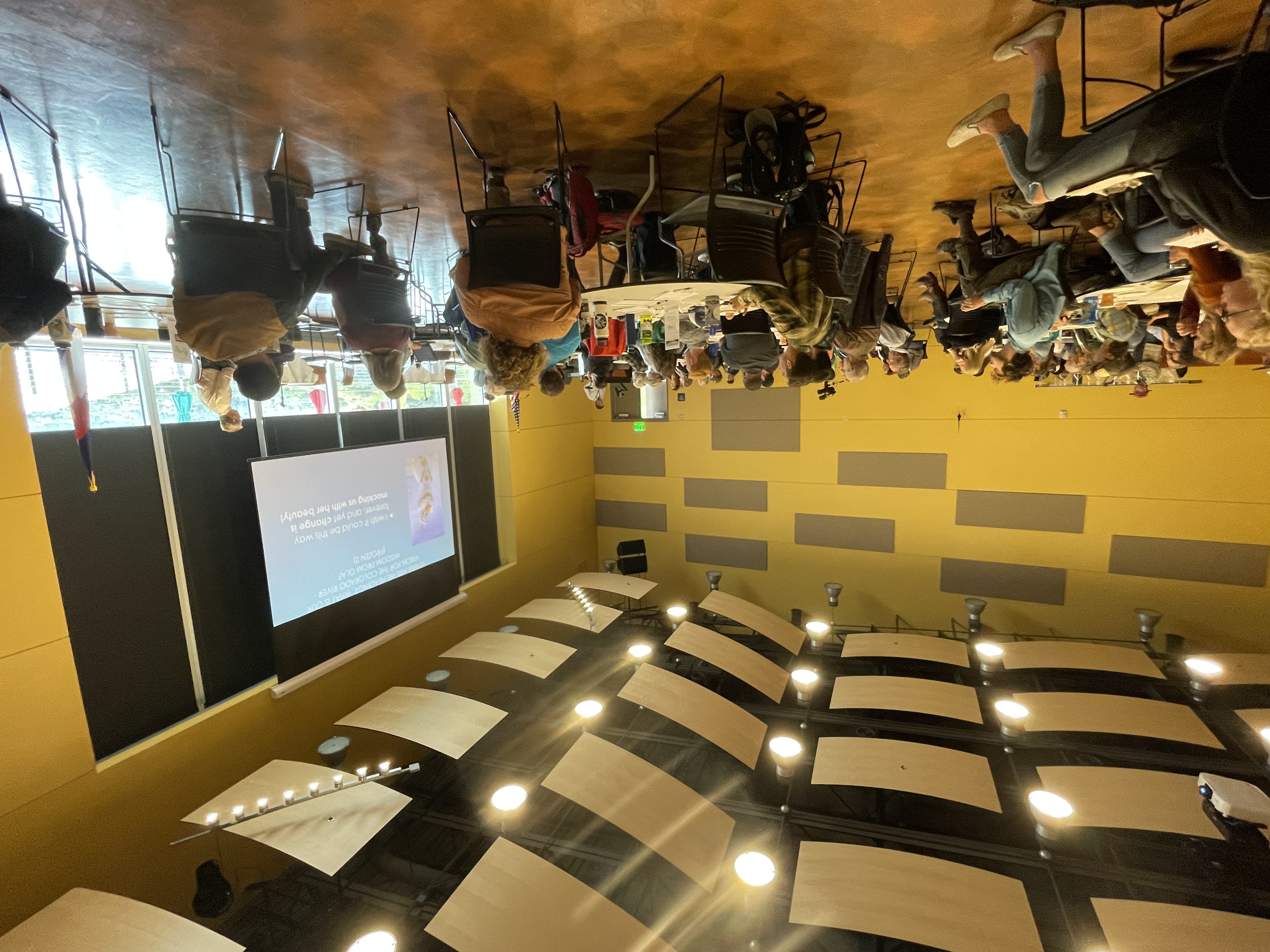 Chuck Cullom (Upper Colorado River Commission Executive Director) presents on day 1 of YBR5 at Colorado Mountain College in Steamboat Springs, CO.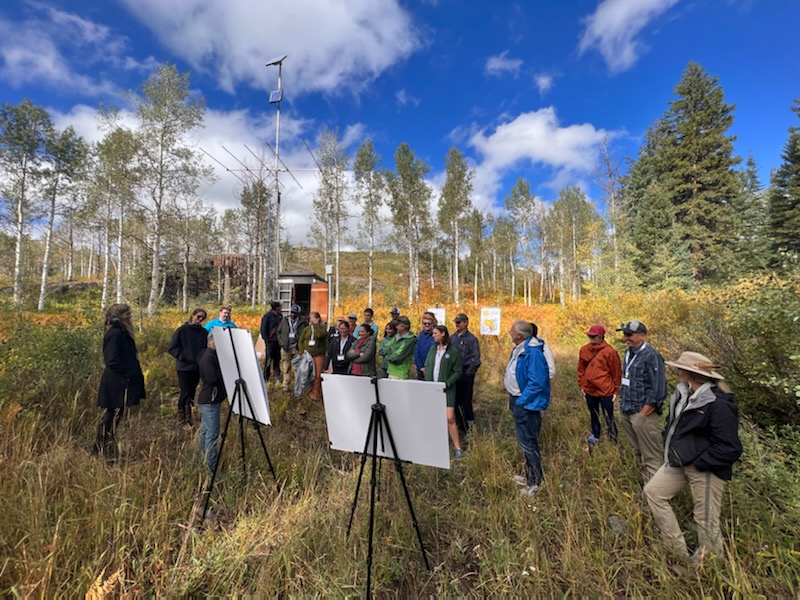 Field Excursion day 1: Kerstin Paulsson presents an update on newly installed soil moisture station while at the Dry Lake Snote sitel.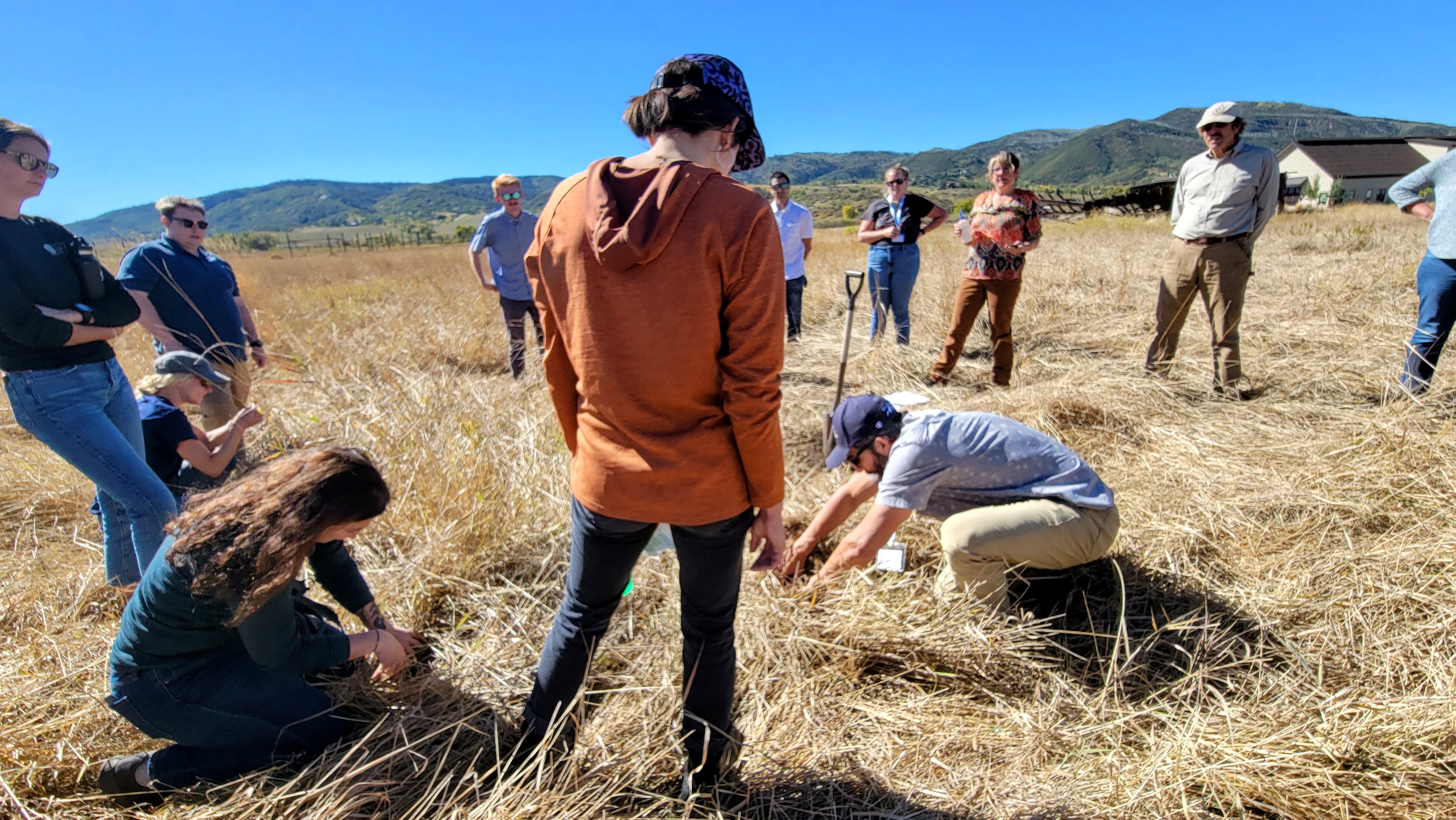 Field Excursion day 2: Clinton Whitten, National Resources Conservation Service soil scientist, leads a hands on demonstration on soil health.