Congratulations to Dr. Osborne – CW3E Graduate Student Successfully Defends Dissertation
June 29, 2021
The fifth CW3E PhD student has successfully defended her dissertation. Dr. Tashiana Osborne's defense was held on Tuesday, June 29, 2021. Her dissertation title is "Extreme Rain-Snow Level Variations during California Storms" and includes three chapters that will be submitted to the Journal of Atmospheric and Oceanic Technology and the Journal of Hydrometeorology. Tashiana's committee members were Art Miller (Chair), Marty Ralph and Joel Norris (Co-Chairs), Amin Dezfuli, Myrl Hendershott, Lane Kenworthy, and Shang-Ping Xie. Funding for Tashiana's dissertation came from her National Science Foundation Graduate Research Fellowships Program fellowship, her San Diego Fellowship, and her UC President's Dissertation Year Fellowship. Additional funding was provided through FIRO and the AR Program, both under PI Marty Ralph.
Tashiana has been selected to be a Postdoctoral Scholar working with Benjamin Zaitchik at the Johns Hopkins University in Baltimore, MD. Her work there will involve setting up a hydrology model and science-to-action framework in order to implement an early warning forecast system for malaria in regions of South America. She will also be consulting for a stealth-mode startup company focused on climate change.
Due to the ongoing COVID-19 health crisis, Tashiana defended her dissertation virtually. CW3E is incredibly proud of Tashiana's accomplishment today and all that she has done (these links are a very small selection!) throughout her PhD. We look forward to honoring her with an in-person celebration as soon as the health precautions are no longer necessary.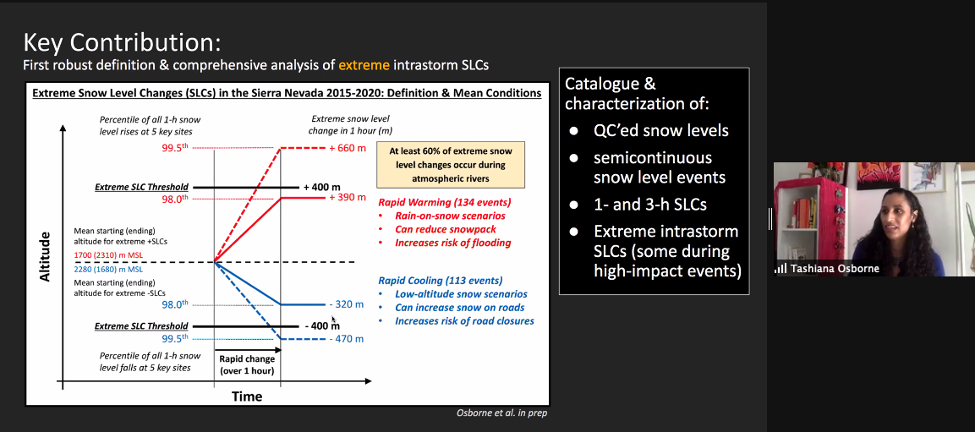 Dr. Tashiana Osborne summarizing her dissertation work during her defense.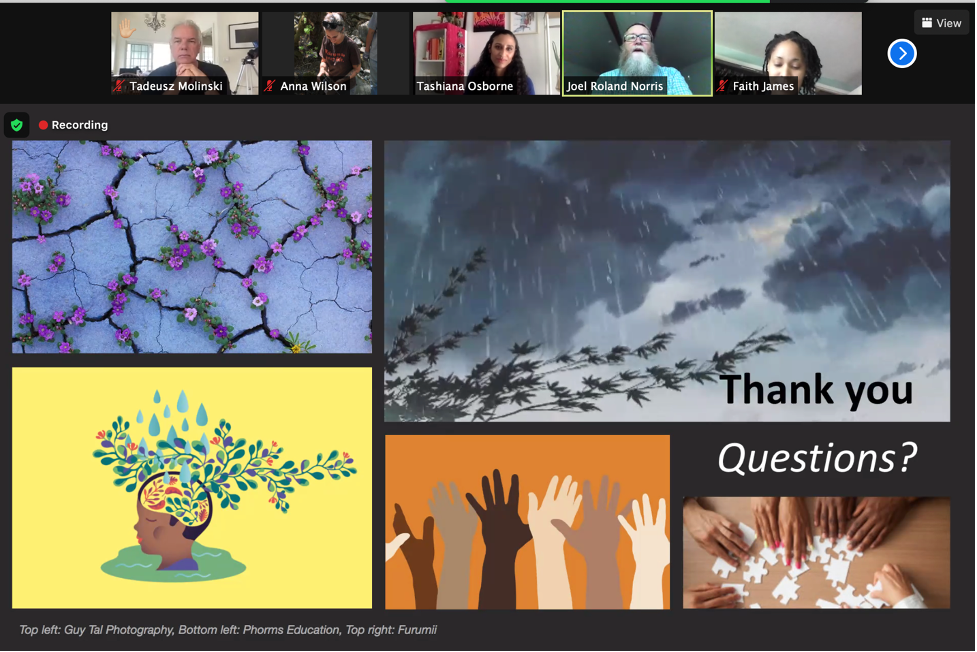 Dr. Tashiana Osborne completing her dissertation defense with her co-advisor Dr. Joel Norris beginning the open questions session.